Deriv is an online trading platform that offers a variety of financial instruments to trade on its proprietary platforms. With over 20 years of experience, it provides trading opportunities in CFDs and derivatives on Forex, stocks, indices, cryptocurrencies, options, and commodities.
Headquartered in Malta, the broker is licensed and regulated by several financial authorities, including the Malta Financial Services Authority (MFSA), the Labuan Financial Services Authority (LFSA), the British Virgin Islands Financial Services Commission (BVI FSC), and the Vanuatu Financial Services Commission (VFSC).
Deriv Pros and Cons
Our findings found the Broker provides a secure and reliable trading environment through its proprietary trading platforms, offering a wide range of derivatives and other market products with competitive fees and spreads. Additionally, you can take advantage of the learning academy with a range of resources available such as market news, educational videos, and articles.
For the cons, the trading conditions and regulations may vary depending on the entity. Additionally, while the broker's customer support team is available 24/7, there may be occasional delays in response times, according to some users' reports.
| Advantages | Disadvantages |
| --- | --- |
| Multiple regulated broker with competitive trading conditions | Conditions and offering vary based on the entity |
| Range of financial instruments | International entity offers Binary Options which is highest risk instrument |
| Available for European and international traders | |
| Proprietary trading platforms | |
| Commission-free trading with low fees | |
| 24/7 customer support | |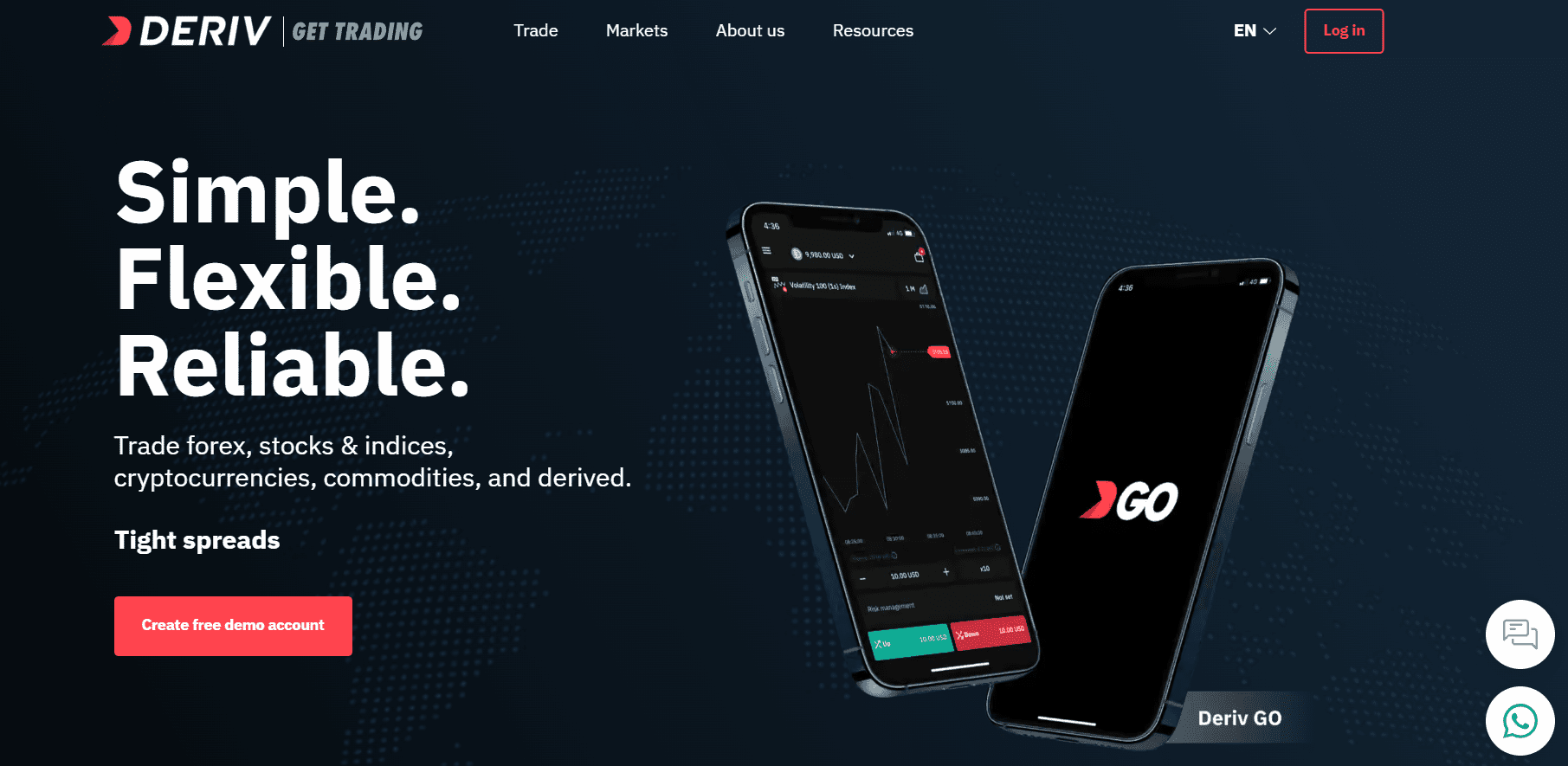 Deriv Review Summary in 10 Points
Overall Deriv Ranking
We have concluded that the broker provides competitive trading conditions for traders of all levels, as well as a variety of trading services that come with competitive fees and spreads.
Deriv Overall Ranking is 8 out of 10 based on our testing and compared to over 500 brokers, see Our Ranking below compared to other industry Leading Brokers.
Deriv Alternative Brokers
It appears that while the brokerage firm offers advanced trading solutions at competitive fees and conditions, other brokers in the market offer similar services. To assist traders in their search for a suitable broker, we have compiled a list of leading alternatives to consider:
ATFX – Wide Range of Trading Instruments
Accuindex – Competitive Trading Conditions
HKEX – Professional Trading
Awards
Deriv Trading Broker has received various awards for its dedication to providing quality service to its clients. Below is a screenshot of one of the awards Deriv has been recognized for by the time of writing our review.
Is Deriv Safe or Scam?
No, Deriv is not a scam. It is a reliable brokerage company regulated by multiple entities that impose strict rules and guidelines on the broker's operations.
Is Deriv Legit?
Yes, Deriv is a legit and regulated broker.
It is authorized and regulated by several financial authorities, including the MFSA (Malta), LFSA (Malaysia), BVI FSC (British Virgin Islands), and VFSC (Vanuatu). This indicates that the company adheres to strict regulatory requirements and is closely monitored, which increases the safety and confidence of traders.
See our conclusion on Deriv Reliability:
Our Ranked Deriv Trust Score is 8.2 out of 10 for the good reputation and services provided. However, trading services are available via offshore entities as well.
| Deriv Strong Points | Deriv Weak Points |
| --- | --- |
| Negative balance protection based on traders' residence | Regulatory standards and protection vary based on the entity |
| Funds protection | |
| Compensation scheme | |
| Segregated accounts | |
How Are You Protected?
Being a regulated broker its alignment ensures the safety of its clients' funds by segregating them from the company's accounts and not using them for operational purposes. Additionally, we found that the company provides negative balance protection to protect traders' accounts from going into negative balance during times of market volatility or unforeseen events.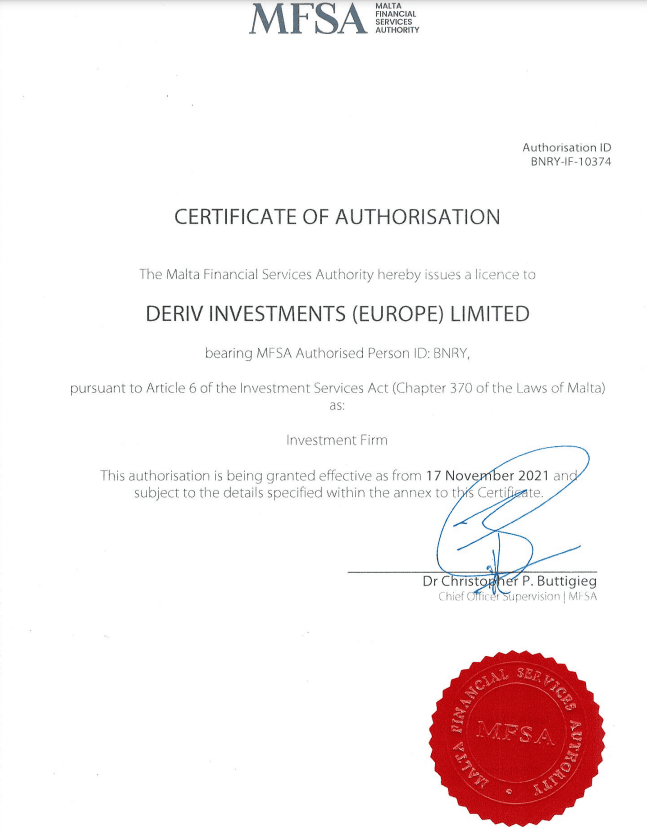 Leverage
The use of leverage in trading is one of the great opportunities to gain greater exposure to the market with less capital, yet it can also lead to significant gains or losses, depending on how it is used. Therefore, it is vital to have a good grasp of how leverage works and its potential implications before utilizing it in trading activities.
Deriv leverage is offered according to the MFSA, LFSA, BVI FSC, and VFSC regulations therefore are different in each jurisdiction:
Traders are eligible to use a maximum of up to 1:1000 for major currency pairs on International entities.
European clients are allowed to open an account with Malta entity using leverage up to 1:30.
Account Types
While selecting Deriv as a trading Broker, traders have a choice of three account types, as we discovered from our analysis: Standard Financial, Financial STP, and Synthetic accounts, each with its trading options. Moreover, new traders can use a Demo account, which is free of charge, to practice trading and make trial trades.
| Pros | Cons |
| --- | --- |
| Account base currencies EUR, USD, GBP | None |
| Fast and easy account opening | |
| Demo account | |
| Hedging and Scalping | |
How to Open Deriv Live Account?
Opening an account with a broker and Deriv Login is quite easy. You should follow the opening account or sign-in page and proceed with the guided steps:
Select and Click on the "Create an Account" page
Enter the required personal data (Name, email, phone number, etc.)
Verify your personal data by upload of documentation (residential proof, ID, etc.)
Complete the electronic quiz confirming your trading experience
Once your account is activated and proven, follow with the money deposit.
Trading Instruments
According to our test trade, Deriv broker offers a diverse range of trading instruments, such as CFDs, Forex derivatives, stocks, indices, cryptocurrencies, and commodities. Traders can also access high leverage up to 1:1000 on the international entity and trading of Options and Binary Options, which can potentially increase profits however should be used with precautions since is highly risky instrument.
Deriv Markets Range Score is 8.5 out of 10 for wide trading instrument selection. On the other hand, instrument selection is evry different based on entity of Deriv you trade, also some popular asset classes, such as futures, and bonds are not available to trade.

Deriv Fees
During our research, we found that the broker provides commission-free trading and does not charge deposit or withdrawal fees, making it a cost-effective option for traders.
Additionally, if a trader holds a position for more than one day, they will be subject to overnight fees. The broker also imposes an inactivity fee of $25 on accounts that have been inactive for over 12 months.
Deriv Fees are ranked low with an overall rating of 8.2 out of 10 based on our testing and compared to over 500 other brokers.
| Fees | Deriv Fees | ATFX Fees | Accuindex Fees |
| --- | --- | --- | --- |
| Deposit fee | No | No | No |
| Withdrawal fee | No | Yes | Yes |
| Inactivity fee | Yes | No | No |
| Fee ranking | Low | Low | Low/Average |
Spreads
Traders have the opportunity of choosing tight and variable spreads for the Deriv trading accounts, with an average spread of 0.1 pips for the popular EUR/USD currency pair in Forex trading. Moreover, the broker offers competitive spreads for other trading instruments, including stocks, indices, cryptocurrencies, and commodities, making it an attractive option for traders across different markets.
Deriv Spreads are ranked low with an overall rating of 8.5 out of 10 based on our testing comparison to other brokers. We found Forex spread much lower than the industry average and spreads for other instruments are competitive too.
| Asset/ Pair | Deriv Spread | ATFX Spread | Accuindex Spread |
| --- | --- | --- | --- |
| EUR USD Spread | 0.1 pips | 1.8 pips | 1.5 pips |
| Crude Oil WTI Spread | 3 | 3 | 3 |
| Gold Spread | 1 | 1 | 2.6 |
| BTC USD Spread | 1 | 180 USD | – |
Deposits and Withdrawals
For money transfers to or from the trading account, traders are offered quite a good selection of various deposit and withdrawal options, such as bank transfers, credit/debit cards, e-wallets, and cryptocurrencies to fund their trading accounts. However, it is important to note that specific funding methods might come with individual requirements and restrictions based on the financial institutions involved.
Deriv Funding Methods we ranked good with an overall rating of 8.9 out of 10. Fees are low, and also you can benefit from various account-based currencies.
Here are some good and negative points for Deriv funding methods found:
| Deriv Advantage | Deriv Disadvantage |
| --- | --- |
| No deposit and withdrawal fees | Methods and fees might vary in each entity |
| Fast digital deposits | |
| Multiple account base currencies | |
| $5 is the minimum deposit amount | |
Deposit Options
In terms of funding methods, Deriv offers the following payment methods:
Bank Wire,
Credit/Debit cards,
Skrill,
Neteller, etc.
Deriv Minimum Deposit
To open a live trading account with the broker, traders need to deposit $5 as an initial deposit amount, which is considered very good offering overall.
Deriv minimum deposit vs other brokers
| | | |
| --- | --- | --- |
| | Deriv | Most Other Brokers |
| Minimum Deposit | $5 | $500 |
Deriv Withdrawals
Withdrawals at Deriv are easy and fast for traders, as Broker mentions. The processing time of withdrawals may differ based on the withdrawal method, but typically, it takes 1 working day.
How Withdraw Money from Deriv Step by Step:
Login to your account
Select Withdraw Funds' in the menu tab
Enter the withdrawn amount
Choose the withdrawal method
Complete the electronic request with necessary requirements
Confirm withdrawal information and Submit
Check the current status of withdrawal through your Dashboard
Trading Platforms
There are multiple trading platforms provided by Deriv, such as proprietary web platforms Deriv X, Deriv EZ, and Deriv GO, as well as popular third-party platforms like MetaTrader 5, Binary Bot, and SmartTrader.
Trading Tools
All offered platforms are designed with user-friendly interfaces and offer a variety of trading tools, such as technical indicators, tools, charts, and customizable trading strategies. Most of the platforms can be accessed via web, desktop, and mobile devices, making it a convenient option for traders on the go.
Our research also revealed that the broker's platforms provide quite reliable trading operations, with 24/7 technical support available to assist clients with platform-related issues.
Deriv Platform is ranked good with an overall rating of 8.5 out of 10 compared to over 500 other brokers. We mark it as good since it offers popular third-party as well as professional proprietary trading platforms.
| Platforms | Deriv Platfroms | ATFX Platforms | Accuindex Platforms |
| --- | --- | --- | --- |
| MT4 | No | Yes | Yes |
| MT5 | Yes | No | Yes |
| cTrader | No | No | No |
| Own Platform | Yes | No | No |
| Mobile Apps | Yes | Yes | Yes |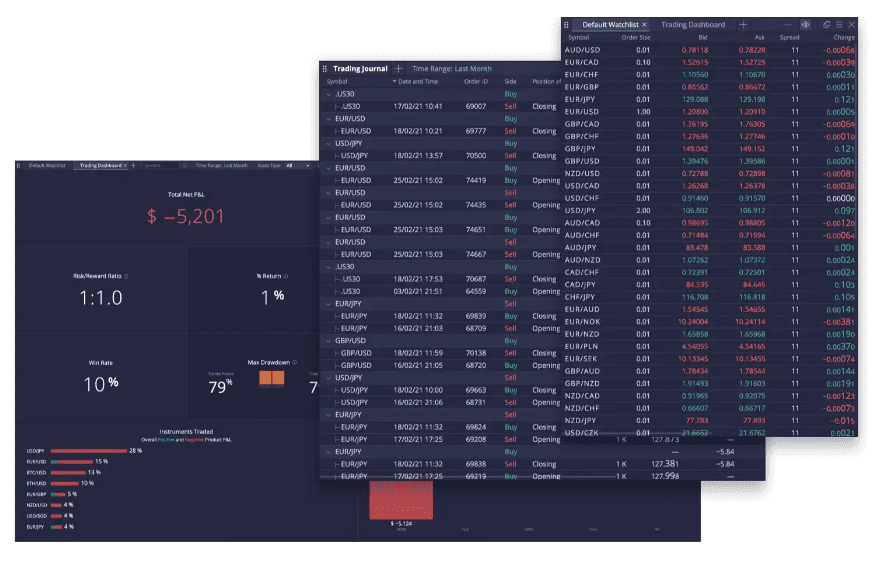 Customer Support
You can take advantage of 24/7 customer support through Live Chat, WhatsApp, and Help Center at Deriv. For customer support reasons, besides headquarter in Malta, the broker has other representative offices in other European countries such as the UK, France, Cyprus, and Guernsey, as well as in Asia, the Middle East, Eastern Europe, Africa, Latin America, Caribbean, and Oceania.
Customer Support in Deriv is ranked good with an overall rating of 8 out of 10 based on our testing. However, some traders have reported occasional delays in receiving responses from the customer support team.
See our find and ranking on Customer Service Quality:
| Pros | Cons |
| --- | --- |
| Availability of live chat, phone lines, WhatsApp, and help center | Delays in response times |
| 24/7 customer support | |
| Relevant answers | |
Deriv Education
Lastly, Traders can access Deriv Academy which covers recent market news, educational videos, and trading articles. However, the broker does not provide trading seminars, webinars, insights, and other learning materials and research, so if you're looking for more comprehensive education you may look for other Brokers offering Trading Academy.
Deriv Education ranked with an overall rating of 6.5 out of 10 based on our research. For beginner traders, we recommend getting the necessary learning materials from other well-known brokers.
Deriv Review Conclusion
In conclusion, Deriv's trading offering is considered a reliable broker with a wide range of trading instruments and professional trading platforms. The broker is authorized and regulated by multiple financial regulatory bodies, so provides a high level of security and transparency. The commission-free trading, absence of deposit and withdrawal fees, and negative balance protection are notable advantages of this broker. Yet, conditions depend on the entity you trade with, so we advise opening an account with the European branch for better protection.
Overall, traders have expressed satisfaction with Deriv's trading conditions and products. However, there have been reports of some delays in customer support responses from a few users too. So overall, we advise conducting thorough research before deciding to use Deriv to ensure that it suits your trading requirements.