The Big Picture
FxPro is a leading CFD broker providing access to trading in forex, commodities, stocks, indices, futures, and cryptocurrencies. Founded in 2006, the company now has clients in over 170 countries and is regulated by multiple authorities globally, including the top-tier FCA and CySEC. As a No Dealing Desk (NDD) broker, all client orders are executed with no dealing desk intervention.
The London-based broker has won over 100 industry awards, including "Best Forex Provider" by Investors Chronicle and the Financial Times. If you are a racing fan you may already be familiar with the brand: since 2018, FxPro has been the official sponsor of the McLaren Formula 1 team.
FxPro Key Takeaways in 2023
FXPro offers competitive spreads in various forex pairs, shares, indices, and commodities. For example, I experienced a spread of just 1.9 pips in GBP/JPY.
FxPro offers high-quality in-house content and tools, complemented by third-party analysis from Trading Central.
FxPro's clients will find an impressive range of instruments across multiple asset classes, including CFDs on commodity and index futures. I was impressed that unusual metals such as lead and zinc are available to trade.
I found room for improvement in the safety of funds for clients of the offshore entity. Client funds are held in segregated accounts, but there is no compensation fund or third-party insurance coverage in the event of insolvency.
Beginners can benefit from well-crafted courses, a demo account, and reliable customer service. The proprietary Edge platform is intuitive and user-friendly, suitable for new traders.
Experienced traders can take advantage of the advanced cTrader and MetaTrader platforms, competitive spreads, algorithmic trading, and multi-account management.
What Sets FxPro Apart from Other Brokers?
FxPro strives to deliver fast order execution. According to the website, most orders are executed in under 13 milliseconds. Another area where FxPro shines is in its range of platforms, including MetaTrader 4, MetaTrader 5, cTrader, and the proprietary Edge platform. FxPro offers over 2,100 trading instruments, including CFDs on futures and cryptocurrencies – far better than average for the industry. The FxPro Wallet is an innovative tool that makes it easier for clients to make deposits and withdrawals.
What types of traders will FxPro fit the best?
FxPro can cater to beginners to trading with its well-designed Edge platform, reliable customer service via chat, and in-depth educational materials. Advanced traders can benefit from various platforms, tight spreads, and third-party tools such as Trading Central. Professional money managers can use FxPro thanks to the availability of multi-account management tools in MetaTrader.
FxPro Pros and Cons
| | |
| --- | --- |
| Pros | Cons |
| Robust platformsExcellent range of tradable instrumentsCompetitive spreadsFast order executionSpread betting (UK only)Research from Trading CentralFast deposits and withdrawalsFixed and variable spread accounts | Limited protection at offshore entityFxPro Edge Platform is only available in the English languageInactivity fee |
How Do We Rate?
When trading forex and CFDs, it is crucial to know a broker's strengths and weaknesses. That is why FX Empire developed its proprietary rating system. We put the knowledge and expertise of our reviewers to work to bring you the most suitable brokers. A total of 200 variables have been analyzed to help you choose your broker wisely. This chart describes all the categories we evaluated and rated.
FxPro Video Review
With a substantial operating history of over 17 years, FxPro is a well-established broker. It is governed by multiple regulators globally, including the top-tier UK Financial Conduct Authority (FCA) and the Cyprus Securities & Exchange Commission (CySEC). Client funds are held in segregated accounts at global banks such as Barclays and Royal Bank of Scotland. My research showed that FxPro has a high level of financial strength and trustworthiness.
In our trust category, we place the most importance on how a broker is regulated. This section will cover how the different entities of FxPro are regulated and how this impacts you as a trader. We rate regulators on a scale of 1 to 3, with 1 reflecting the highest level of trust.
Why is it important to know where your broker subsidiary (entity) is regulated?
Different regulators provide different levels of protection. For example, FxPro clients in the United Kingdom benefit from the oversight of the Financial Conduct Authority (FCA). The FCA requires that clients have negative balance protection, which means they cannot lose more than their deposit.
In addition, when trading with a broker authorized by the FCA, client funds are protected by the Financial Services Compensation Scheme (FSCS). The FSCS protects investments of up to £85,000 if a firm becomes insolvent. A trader working with a broker entity regulated offshore would not necessarily have these benefits.
The table below lists the protections and benefits by entity, regulator, and region.
Regulatory requirements are subject to change. I gathered the data listed above in July 2023.
FxPro provides Negative Balance Protection (NBP) for all clients, regardless of their categorization (retail or professional) and jurisdiction. Client funds are deposited in segregated accounts at global banks such as Barclays and Royal Bank of Scotland.
Stability and Transparency
In our tests for the Trust category we also cover factors relating to stability and transparency. Here, we focus on the brokers' business longevity, the size of the company, and their transparency in terms of information being readily available.
FxPro has a lengthy operating history of 17 years. The company is headquartered in London, United Kingdom, and has over 200 employees.
FxPro has a listing of entities and regulators on its Licences page. However, the Mauritius entity is not listed there.
The pricing model at FxPro is well explained on the Pricing page. On the About page, FxPro shares the history of the company. The Client Agreement can be found on the Legal Docs page.
To conclude, I observed that FxPro has several positive attributes:
Regulated by two Tier-1 financial authorities.
Holds client money in segregated accounts.
Provides Negative Balance Protection for all clients.
Has been in business for 17 years.
However, I found room for improvement in transparency about its offshore entities.
FxPro offers competitive spreads in a wide range of instruments. Narrower spreads can be accessed via their VIP account. These low costs can be critical for achieving profitability, particularly for active, short-term traders. Swap fees and inactivity fees are average for the industry.
Trading Fees
I tested the spreads at FxPro across different asset classes using the MetaTrader 4 and Edge platform at 8:00 a.m. GMT and 4:00 p.m. GMT on 5 July 2023. I measured the spreads at two different times of day to allow for a greater perspective. 8:00 a.m. GMT is the London open when there is high liquidity in the forex market and tighter spreads in currency pairs. 4:00 p.m. GMT is during the New York trading session.
Swap Fees
Swap fees (the cost of holding a position overnight) were average at FxPro.
In the table below, you can see the Swap Long (the cost/credit of holding a buy position overnight) and the Swap Short (the cost/credit of maintaining a sell position overnight) for one full-sized contract. A full-sized contract is 100,000 units of the base currency (the first currency quoted in the pair). I recorded the data on 6 July 2023.
Non-Trading Fees
FxPro charges an inactivity fee after 6 months. This consists of a one-time fee of $10, followed by a monthly fee of $10 for each month that the account remains inactive.
Are Fees at FxPro Competitive?
Overall, when using a standard account, I rated the fees at FxPro as competitive. Tighter spreads are available via the VIP account.
Platforms and Tools
FxPro offers four platforms: FxPro Edge, MetaTrader 4, MetaTrader 5, and cTrader. This provides the best of both worlds. The user-friendly and intuitive Edge platform can cater to beginners and casual traders. Meanwhile, the robust MetaTrader and cTrader platforms cater rather to advanced and algorithmic traders.
FxPro Edge
FxPro's proprietary platform called Edge has an attractive interface and provides a smooth and intuitive trading experience. This web-based platform allows you to access the market directly from your browser. FxPro Edge is highly customizable and has popular features such as one-click trading and trading from the chart. One drawback is that English is the only available language for the platform.
Order Types
Market, limit, and stop loss orders are available via the Edge platform. Time-in-force conditions such as Good 'Til Cancel (GTC) are available for pending orders. Trailing stop loss orders are not available on the Edge platform, but they are available on MetaTrader and cTrader.
Charts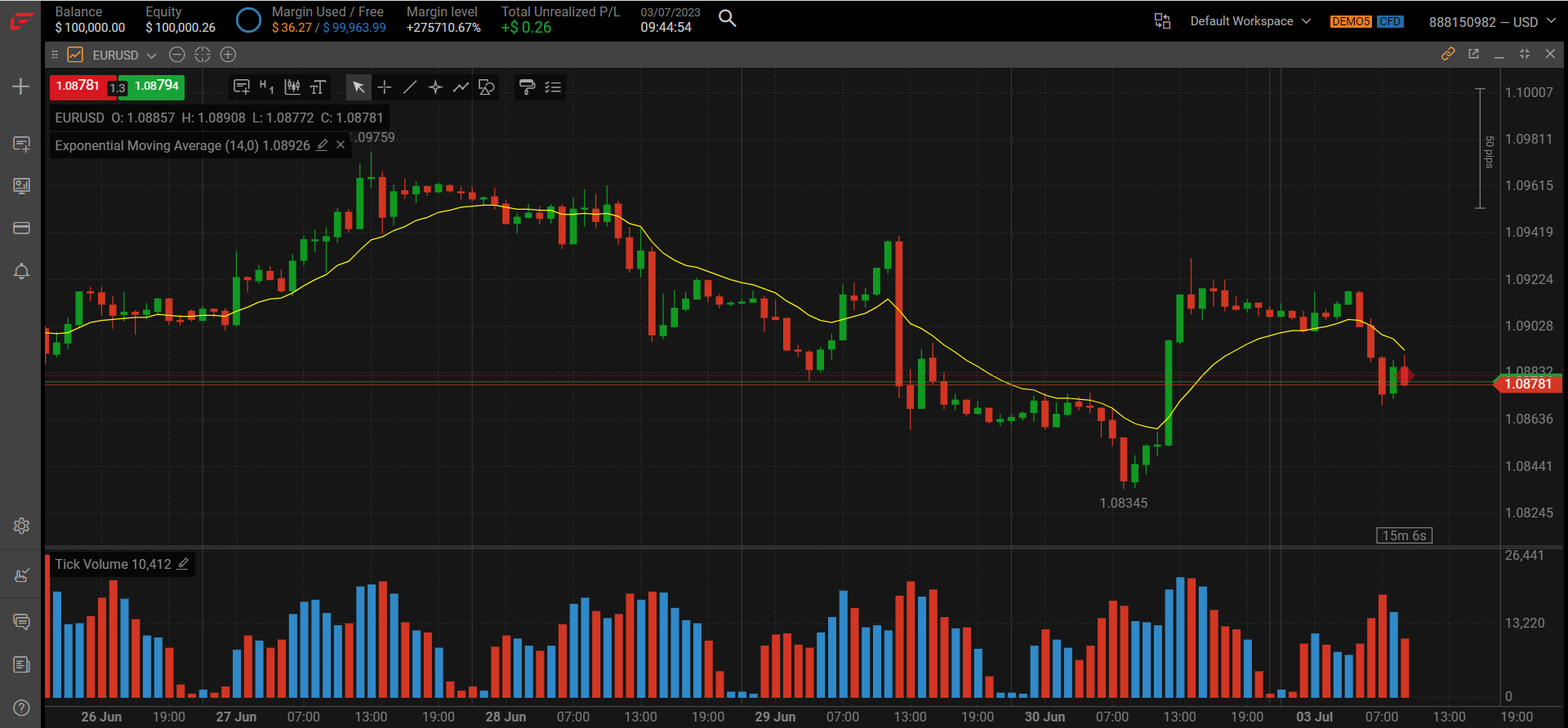 FxPro Edge Charts
Charting on the Edge platform is robust, with a wide range of chart types, time frames, indicators, and drawing tools.
Chart types: Bar Chart, Japanese Candlesticks, Heikin Ashi, HLC Chart, Line Chart and Dots Chart.
Time frames: 15 different time frames available, ranging from 1 minute to 1 month.
Technical indicators: 53 technical indicators including momentum, reversal, volatility, and volume indicators.
Drawing tools: 13 drawing tools, including Fibonacci, Pitchfork, and ABCD pattern.
FxPro Edge Charts Grid Layout
The platform is highly customizable, with preset layouts and the ability to save your preferred chart setups so they can be pulled up anytime.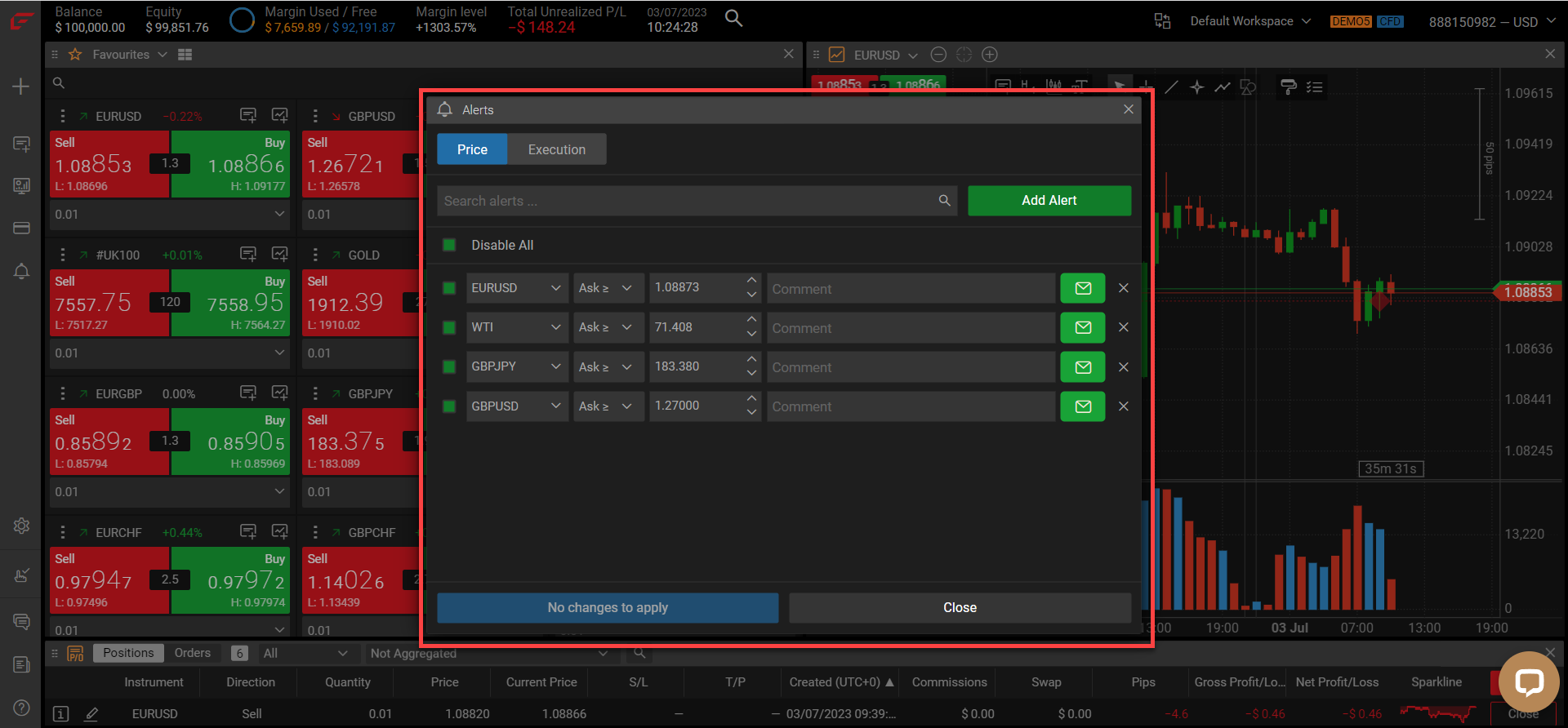 Alerts within the FxPro Edge Platform
Alerts can notify you via email of price levels reached and orders that have been executed.
Overall, I rated Edge as a great platform that is suitable for beginners and can cater to the needs of most traders.
FxPro Direct Mobile
FxPro Direct Mobile App
The FxPro Direct app is available for iOS and Android and allows users to manage their accounts, deposit/withdraw funds, contact live support, and trade. It has a minimalistic, user-friendly interface – a refreshing contrast from the MetaTrader apps. I noted that the app features industry-leading TradingView charts, providing a wealth of indicators and analysis tools.
Popular features such as one-click trading and trading from the chart are available. The app also has an economic calendar, allowing users to stay on top of key fundamental data. When checking account security, I verified that 2-factor authentication is available. FxPro Direct is available in 19 languages.
Available Languages
English | Japanese | Korean | Italian | Chinese | Polish | German | Norwegian | Vietnamese | French | Russian | Arabic | Portuguese | Spanish | Czech | Romanian | Indonesian | Malaysian | Turkish
MetaTrader 4 Desktop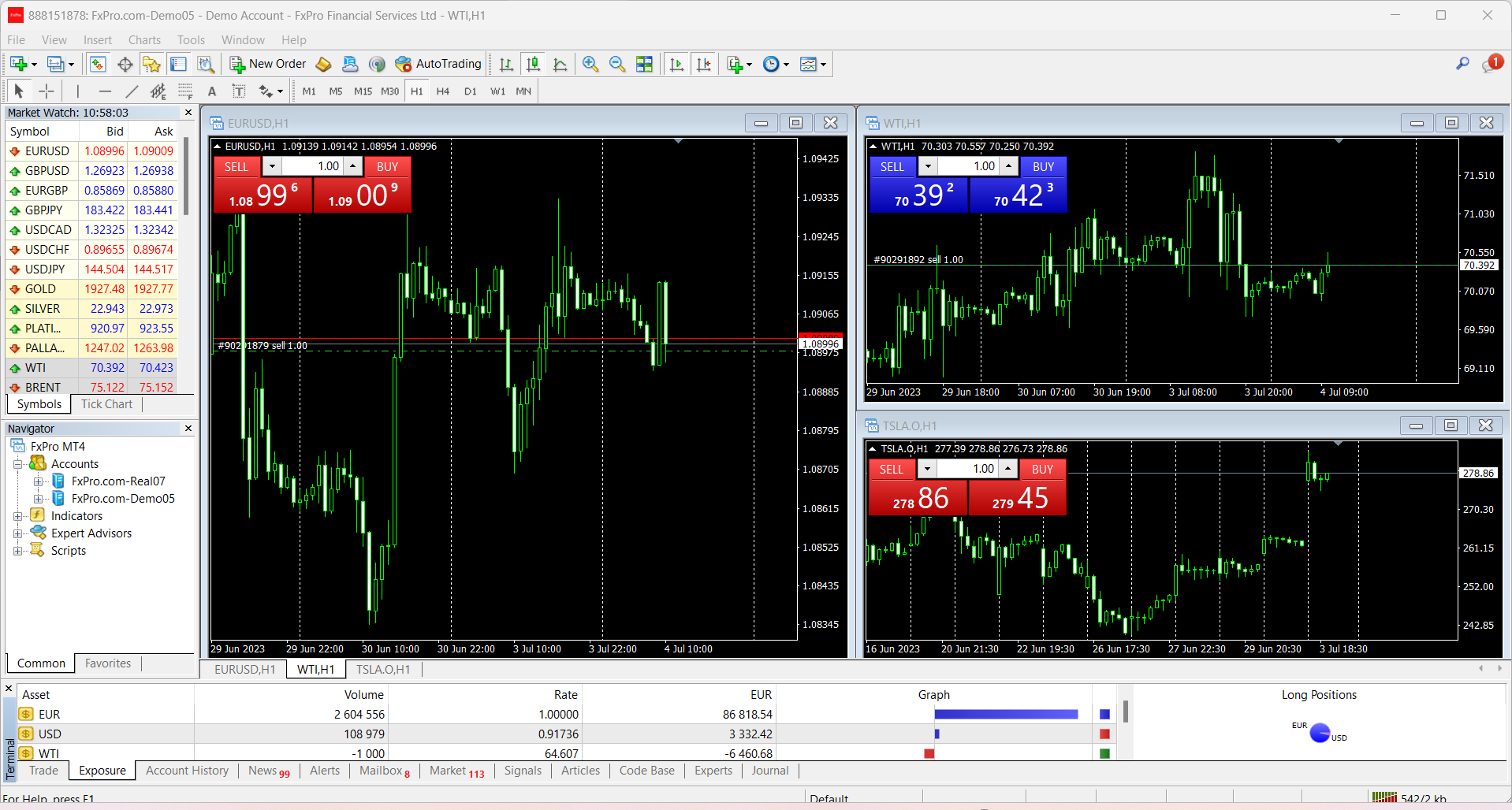 MetaTrader 4 Desktop Platform
FxPro offers MetaTrader 4 for desktops, which includes advanced functions such as copy trading and automated trading.
Traders can access the platform in 39 different languages, from Arabic to Vietnamese. Here are some of its essential features:
Alerts. This feature updates traders when an instrument reaches a specific price level.
Watchlists. Traders can create a list of their favorite instruments and follow live quotes in a market watch panel.
One-Click Trading. This feature allows traders to execute orders with a single click and no secondary confirmation. It enables traders to operate faster and is especially useful for short-term traders.
Trading from the Chart. MT4 also allows users the convenience of trading directly from the chart.
Order Entry on the MetaTrader 4 Platform
MetaTrader also delivers when it comes to the range of available order types. The platform offers the following order types:
Market Order. Traders use market orders to buy or sell an instrument at the best current price.
Limit Order. Traders use limit orders to buy or sell an instrument at a specified price or better.
Stop Loss Order. Traders use stop-loss orders to buy or sell an instrument when its price reaches a specified level.
Trailing Stop Order. Traders use trailing stop-loss orders as a stop-loss order at a defined percentage or dollar amount away from an instrument's current market price. This order type allows traders to secure profits when they are in a winning trade while not having to exit the position.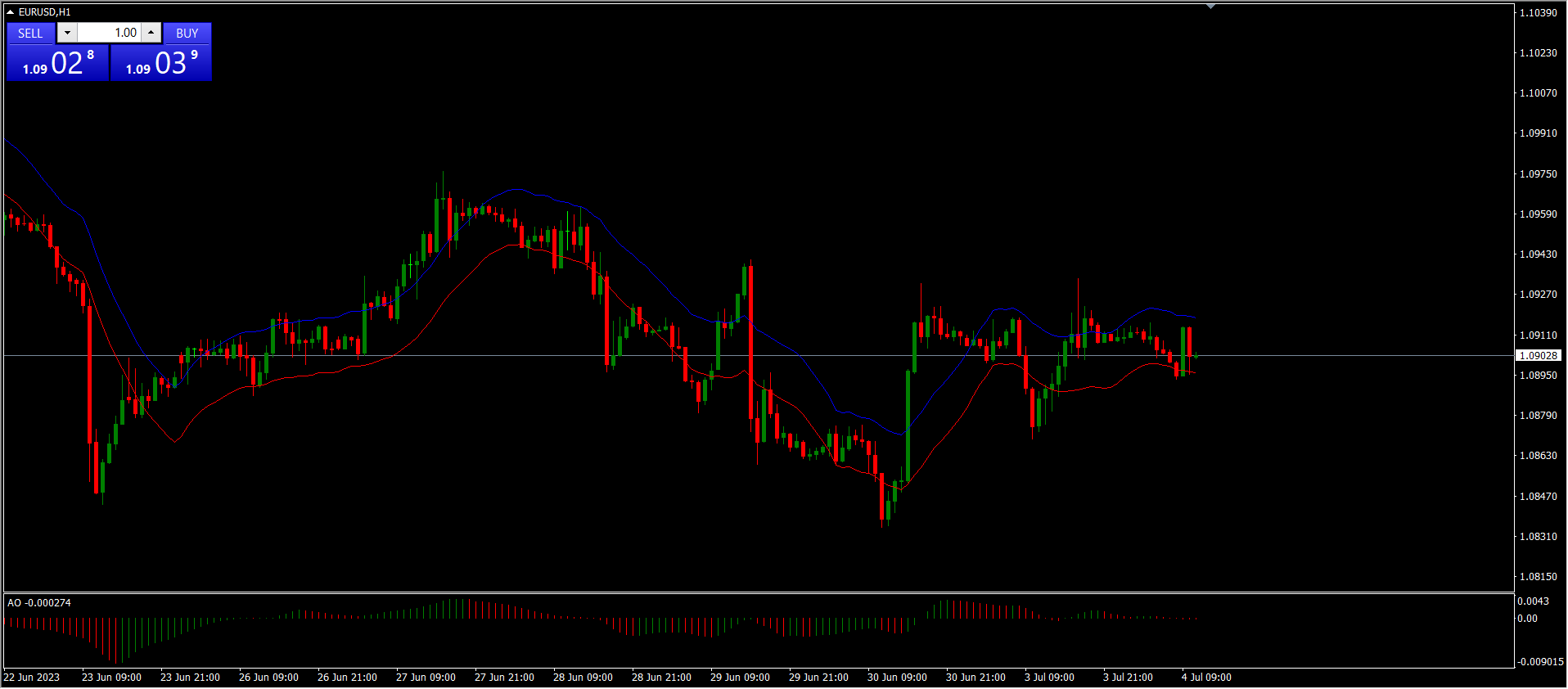 MetaTrader 4 Charts
Charting features are robust. MetaTrader 4 offers:
30 Technical Indicators. These include classic trend indicators, volume indicators, and oscillators.
23 Analytical Objects. These include lines, channels, Gann, and Fibonacci tools.
9 Time Frames. Traders can choose from nine time frames, from one minute to one month.
3 Chart Types. Traders can use Bar Charts, Japanese Candlestick Charts, and Line Charts.
MetaTrader is also popular due to its copy trading and automated trading features.
Trading Signals. Signals in MetaTrader 4 allow users to copy other traders' activity in real time.
Automated Trading. MetaTrader 4 allows users to develop, test, and apply Expert Advisors (EAs). EAs are programs that monitor and trade markets using algorithms.
The MetaTrader 4 desktop platform is one of the most feature-rich and popular trading platforms. It may present a steep learning curve, which is typical of advanced platforms.
MetaTrader 4 Web
MT4 Web Trader
The MetaTrader Web Platform (Web Trader) is a slightly stripped-down version of the desktop platform. It allows you to trade without additional software; only an internet connection is required. The Web Platform lets users trade directly from any browser and operating system.
Popular features include:
One-click trading.
Trading from the chart.
Watchlists with real-time quotes.
Trade History.
Advanced charting with 30 indicators for technical analysis.
Copy trading and automated trading are also only available on the MT4 desktop platform.
MetaTrader 4 Mobile App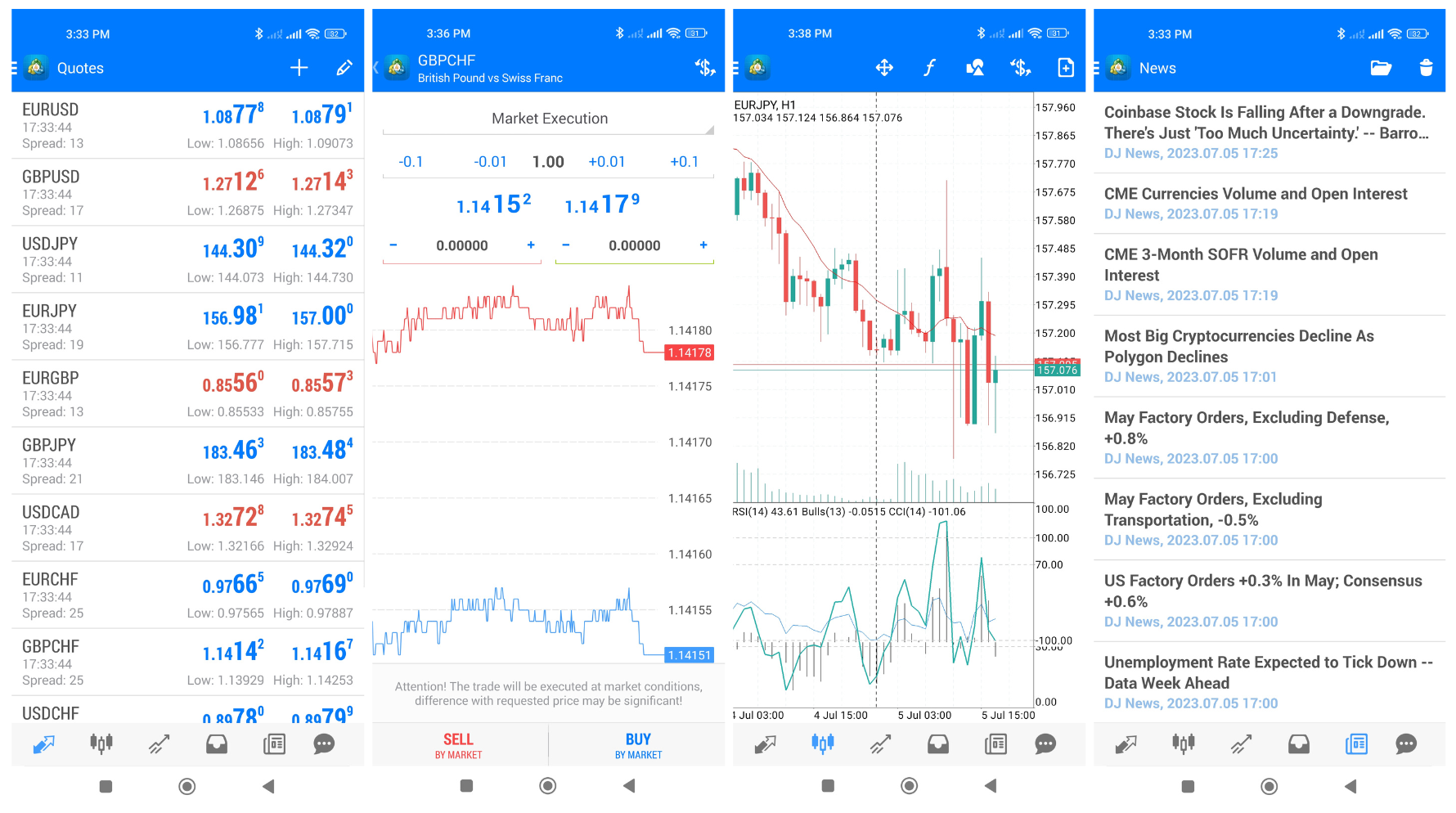 MetaTrader 4 Mobile App
FxPro offers the MetaTrader 4 mobile app for mobile trading, which is available for Android and iOS. The app offers popular features such as alerts, 1-click trading, and trading from the chart.
The MetaTrader 4 mobile app provides many order types, including pending and stop orders. However, trailing stop-loss orders are only available from the desktop. To change the language of the MT4 app, you must change the language for your entire phone. As with the desktop and web platforms, the interface could be more intuitive, but the MT4 app offers an above-average range of features.
cTrader
cTrader Platform
cTrader is a platform with an intuitive interface catering to beginners and advanced/algorithmic traders. It is designed to replicate an institutional trading environment, with features such as Level 2 DoM (Depth of Market). Depth of market shows incoming liquidity from liquidity providers.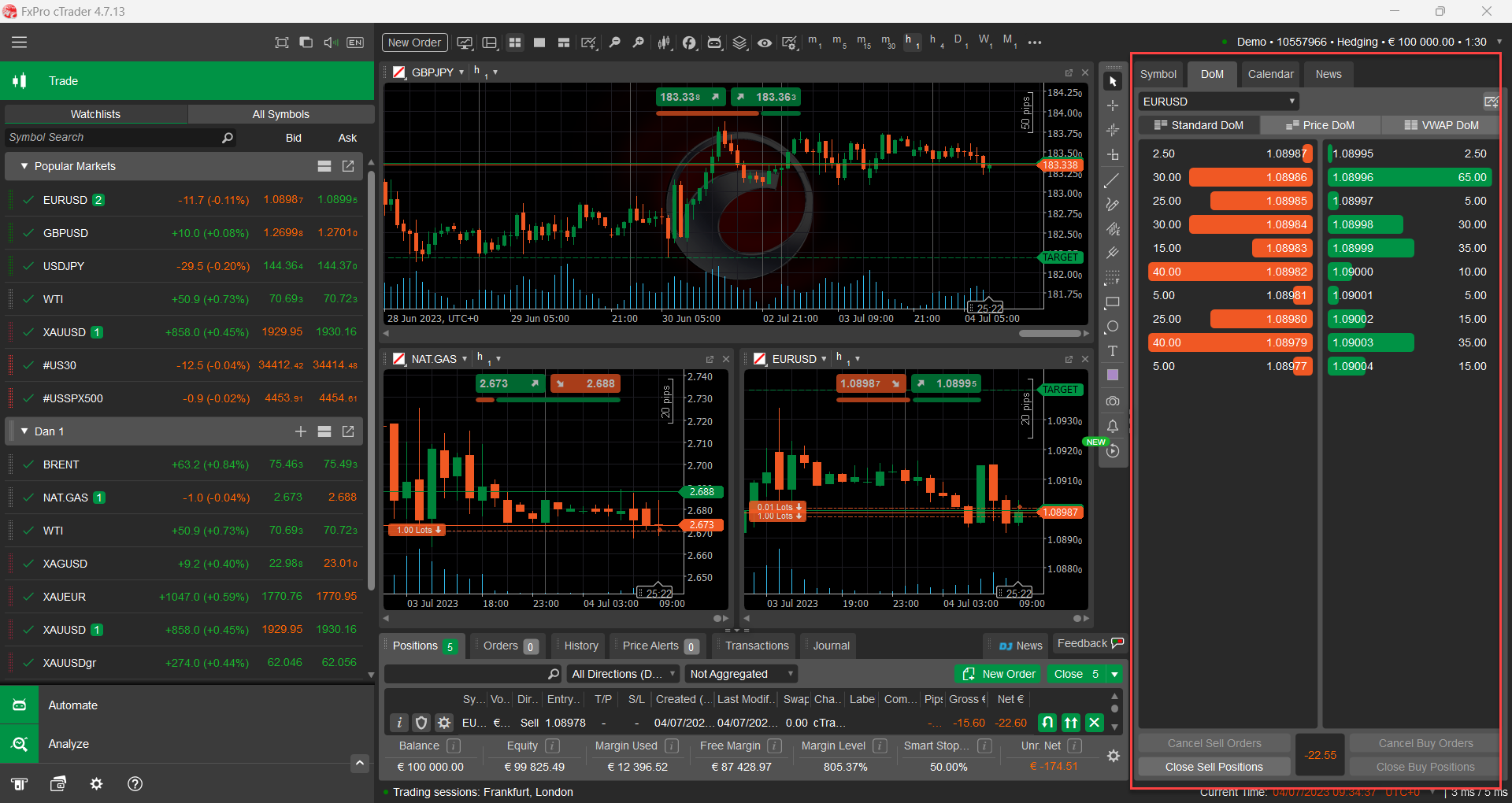 cTrader Depth of Market (DOM)
One-click trading and trading from the chart are available via cTrader. Another popular feature is alerts: the platform can notify you when the market reaches a set price.
One of my favorite indicators, market sentiment, is available via the platform. Sentiment data is displayed below the QuickTrade buttons. Market sentiment indicates the percentage of client accounts that are long (buyers) or short (sellers). The information is collected from all available cTrader servers across multiple brokers.
cTrader Order Entry Panel
Various order types are available, including market, limit, stop loss, stop limit, and trailing stop. Time-in-force conditions such as Good 'Til Cancel (GTC) are available for pending orders.
Charting via the desktop platform is robust, with 26 available time frames, 4 chart types, 76 indicators, and more than 10 drawing tools. A news feed and integrated economic calendar are built into the platform.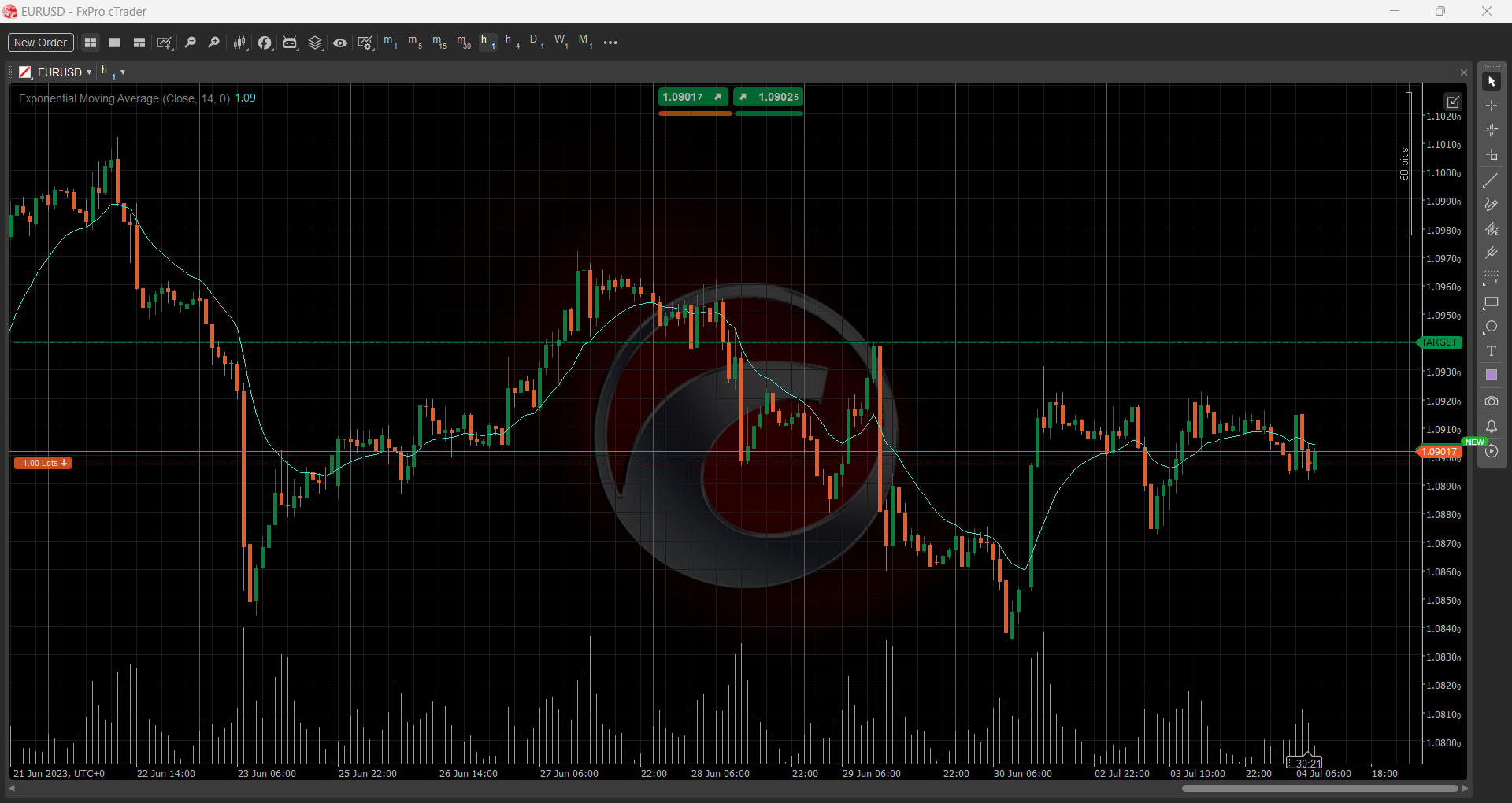 cTrader Charts
cTrader can be used for automated trading and strategy backtesting. cBots are automated trading robots that can automate your trading strategies in cTrader.
To use a cBot, you can drag and drop it on the symbol you want to trade and set your preferred parameters (initial volume, stop loss, and take profit). Any cBot built in cAlgo will automatically be available in cTrader, and custom robots can also be downloaded from the cTrader website. cAlgo is a programming language that enables you to build cBots and custom technical indicators using C#.
cTrader Analyze
Another great feature is cTrader Analyze, which enables traders to track and analyze their trading activity with detailed information on account profitability and performance statistics.
For example, you might be interested to learn your percentage of winning trades, and which percentage of these were long or short trades.
To conclude, cTrader has many of the advanced features of MetaTrader within what I judged to be a better-designed and more user-friendly interface.
Order Execution
All client trades at FxPro are executed with no dealing desk intervention. Due to the high volumes of client trades, FxPro can match much of its order flow internally. Not all client positions are hedged, and a residual exposure up to a set market risk limit remains in-house. Excess risk exposure may be hedged externally.
Tradable Instruments
5.0
How Do We Test A Broker's Tradable Instruments?
In this section, we check the broker's market offering and how varied the instruments and asset classes are. It will allow you to check if they offer what you're looking for and what you can trade.
---
See More
FxPro excels in its range of available CFD instruments. As well as offering a large number of assets within forex, metals, energies, indices, shares, and cryptocurrencies, it provides less commonly found CFDs, including futures on commodities and indices.
CFDs (Contracts for Differences) are financial derivative products that allow traders to speculate in various markets without owning the underlying assets. I rated the range of tradable instruments at FxPro much better than average. Here are the major categories of tradable assets available:
78 Currency Pairs. A currency pair combines two different currencies, with the value of one currency quoted against the other. For example, EUR/USD, which reflects the value of the euro measured in dollars.
29 Index CFDs. An index is a basket of trading instruments that are used to gauge a market sector, stocks within an exchange, or the economy of a country.
28 Cryptocurrency CFDs. Cryptocurrencies, such as Bitcoin, are digital currencies that are secured by cryptography.*
1000+ Stock CFDs. A stock is a security that represents partial ownership of a corporation. Keep in mind that when trading stock CFDs you are speculating on the price of a stock without actually taking ownership of the underlying company.
30 Commodity CFDs. Commodities are raw products, such as gold, oil, and metals.
*Cryptocurrency CFDs are not available for retail clients in the UK. In 2021, the FCA banned trading cryptocurrencies through spread bets and CFDs.
In the tables below, you can see a selection highlighting the variety of instruments available at FxPro:
| | |
| --- | --- |
| Forex Major | Forex Minor |
| EUR/USD | USD/JPY | USD/CHF | AUD/USD | GBP/JPY | NZD/JPY | EUR/GBP | EUR/AUD |
| | |
| --- | --- |
| Forex Exotic | CFDs On Indices |
| USD/THB | USD/PLN | USD/MXN | USD/RUB | UK100 | Spain35 | AUS200 | HongKong50 |
| | |
| --- | --- |
| CFDs On Energies | CFDs On Metals |
| Natural Gas | WTI Crude Oil | Brent Crude Oil | Silver | Palladium | Platinum | Gold |
| | |
| --- | --- |
| Shares | Cryptocurrencies |
| Apple | HSBC | Lufthansa | Hermès | Polkadot | TRON | Cardano | XRP |
I experienced solid customer support at FxPro which is available 24/5. My email inquiries were answered the same day, and the live chat support was quick and reliable. I was also able to reach an operator by phone quickly. The agents were helpful and knowledgeable.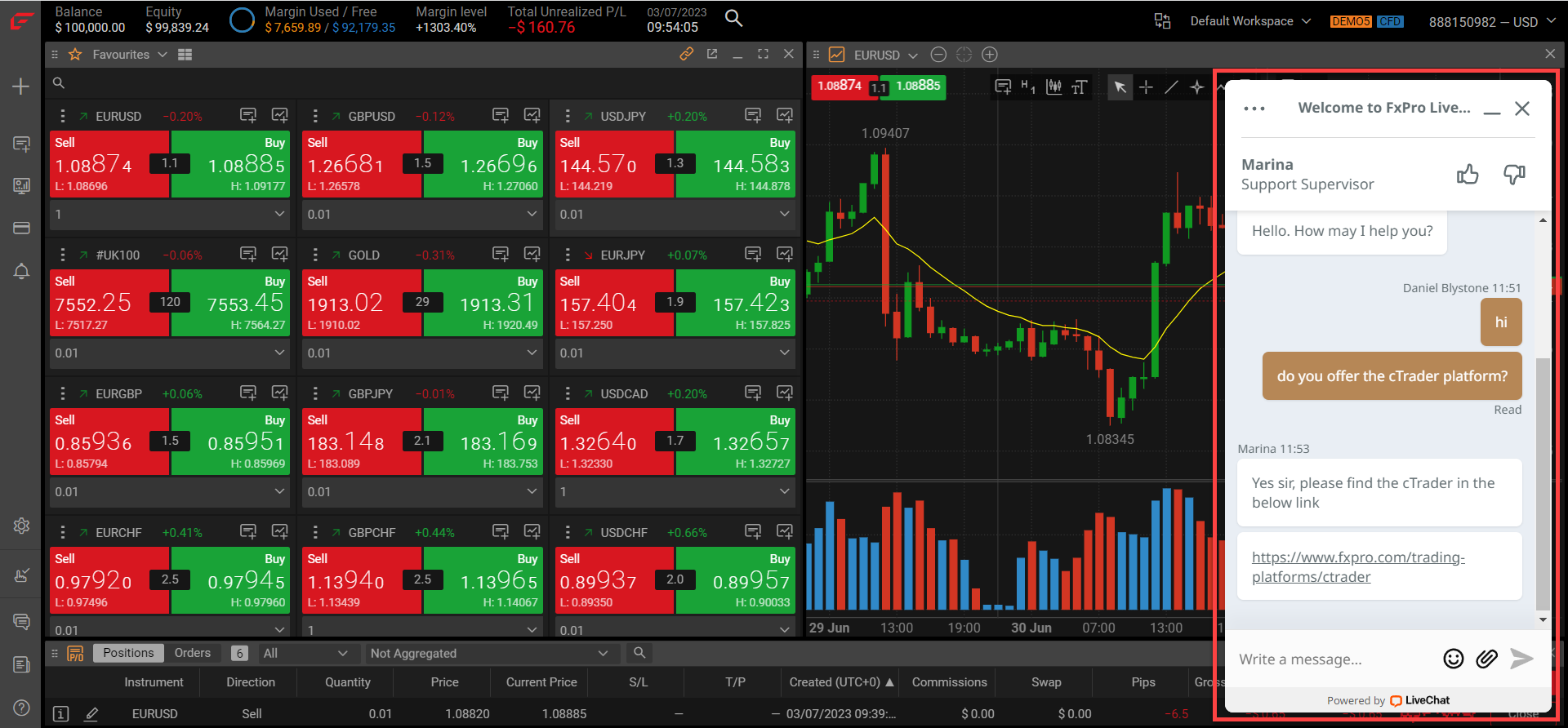 FxPro Live Chat Support
Support responses were fast via chat and email at FxPro, with chat operators available almost instantly and email inquiries responded to within hours. I noted an improvement in phone support from my review last year, and I could reach an operator without delay.
I tested support with dozens of questions, covering subjects such as order execution methods, platform features, and withdrawal of funds.
Agents were well-informed and courteous. I appreciated the absence of a chatbot and that a human agent was available immediately. Overall I rated the customer support experience at FxPro as better than average.
Available Customer Support Languages
Arabic | Chinese | English | French | Greek | Hungarian | Indian | Indonesian | Japanese | Malaysian | Russian | Spanish | Thai | Turkish | Vietnamese
Clients of the UK entity of FxPro can make deposits via bank wire and credit/debit card. Other brokers' entities offer a more comprehensive range of options, including digital wallets. Deposits and withdrawals via bank wire and credit/debit card are free and processed within 1 business day.
In the tables below I break down the fees and processing times for each deposit and withdrawal method.
Deposits
| | | |
| --- | --- | --- |
| Deposit Method | Fees | Processing Time |
| Bank Transfer | 0% | 1 Working Day |
| Broker to Broker | 0% | 1 Working Day |
| Visa | 0% | Usually within 10 minutes |
| Maestro | 0% | Usually within 10 minutes |
| Mastercard | 0% | Usually within 10 minutes |
| Deposit Method | Fees | Processing Time |
Withdrawals
| | | |
| --- | --- | --- |
| Withdrawal Method | Fees | Processing Time |
| Bank Transfer | 0% | 1 Working Day |
| Broker to Broker | 0% | 1 Working Day |
| Visa | 0% | 1 Working Day |
| Maestro | 0% | 1 Working Day |
For withdrawals via bank wire, clients need to allow up to 2–5 working days for the funds to reach their account from the time the withdrawal has been approved. For credit/debit card withdrawals, it takes 3-7 working days to receive the funds back to your card.
FxPro Wallet
The FxPro Wallet was developed to make funding and withdrawal from client accounts easier. Moving funds between FxPro wallet and a trading account is instant and free of charge. The wallet keeps funds safe from unexpected market movements while at the same time easily transferable to a trading account.
The account opening process at FxPro is fully digital and can be completed via the company website within about 20 minutes. Account types are determined by your choice of platform and whether you prefer fixed or variable spreads. FxPro also offers demo, professional, VIP, and Islamic accounts.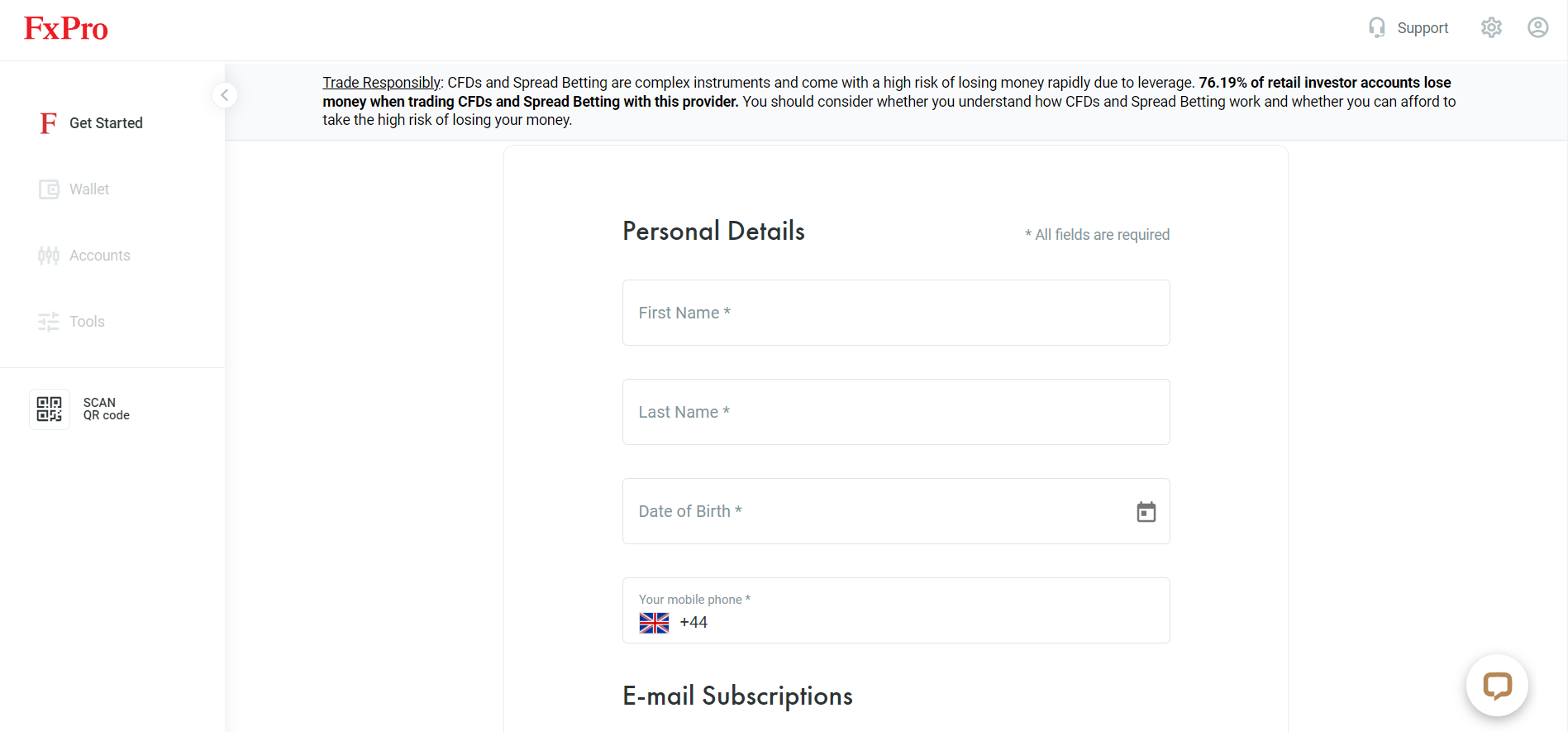 FxPro Account Registration
Account Application
To open an individual account at the FxPro UK Limited entity, prospective clients must provide the following information:
Name.
Address.
Date of Birth.
Employment Status.
Level of education.
Annual Income.
Estimated net worth.
Source of wealth.
The amount your account will be funded with.
Your reason for opening an account with FxPro.
Whether you are a US citizen or a US resident for tax purposes.
How much trading experience you have.
The amount of experience you have with trading FX, CFDs, Spread Bets, or other leveraged financial products.
How many times you have traded forex and CFDs in the past 12 months.
Answer questions on margin, order types, leverage, and risk tolerance
Choose your account type: FxPro Edge Spread Betting, FxPro Edge CFD, MT4 Instant (variable spreads), MT4 Fixed Spreads, MT4, MT5, and cTrader.
Choose your level of leverage (1:1, 1:2, 1:3, 1:5, 1:10, 1:15, 1:20, 1:25, 1:30)
Choose your base currency (AUD, CHF, EUR, GBP, JPY, PLN, USD).
After providing the above information, prospective clients must upload a copy of a valid international passport, national ID card, or driver's license in order to verify their identity.
Demo Accounts
FxPro offers free demo accounts for FxPro Edge, MetaTrader 4, MetaTrader 5, and cTrader. Demo accounts are especially important for beginners as they allow them to practice their strategies and get comfortable with the trading platform without risking real money.
The demo account features live quotes and simulates live market conditions in assets such as forex and CFDs on commodities, indices, and stocks. Once users are up to speed on a demo account, they can easily switch over to a live version.
Professional Accounts
If you have decent trading experience, you can apply to be treated as a professional client. Clients categorized as professionals have access to greater leverage (up to 1:500) and are allowed to trade cryptocurrency CFDs even if they are in the UK. FxPro continues to provide negative balance protection, but clients categorized as professionals may not be entitled to regulatory investor compensation.
In order to be eligible to be categorized as a professional, individuals must meet two of the three criteria below.
You have carried out transactions, in significant size, on the relevant market at an average frequency of 10 per quarter over the previous 4 quarters (with FxPro or other brokers).
The size of your financial instrument portfolio, defined as including cash deposits and financial instruments, exceeds €500,000.
You work or have worked in the financial sector for at least one year in a professional position, which requires knowledge of the transactions or services envisaged.
VIP Trading Account
The FxPro VIP account offers benefits for high-volume traders with a substantial account balance. A prerequisite of the VIP account is a deposit of $50,000+ (or currency equivalent). VIP account holders receive up to a 30% discount on market spreads, access to a free Virtual Private Server (VPS), and up to 30% lower commissions on cTrader accounts.
Islamic Accounts
FxPro offers a swap-free Islamic account that adheres to the principles of Sharia law.
Leverage
One of the reasons that traders are attracted to the forex and CFD markets is the high degree of available leverage. Leverage is the use of borrowed funds to increase the size of your trading positions beyond what would be possible using only the cash in your account.
The maximum leverage for a standard account with the FxPro UK Limited entity is 1:30. This means that with an account of $1,000, you can control up to $30,000 worth of positions in the market. If you are categorized as a professional, you can access leverage of up to 1:500. This means that with $1,000, you can control up to $500,000 worth of positions.
Leverage is often described as a 'double-edged sword' as it can hurt you as much as it helps you. Traders must remember that it can amplify both their profits and their losses.
Supported Countries
FxPro takes clients from the majority of countries globally. However, clients from the USA, Iran, and Canada are not accepted.
FxPro shines in the Research category with high-quality in-house analysis and a range of proprietary and third-party tools. Materials can cater to both novice and advanced traders, and fresh content is added multiple times daily.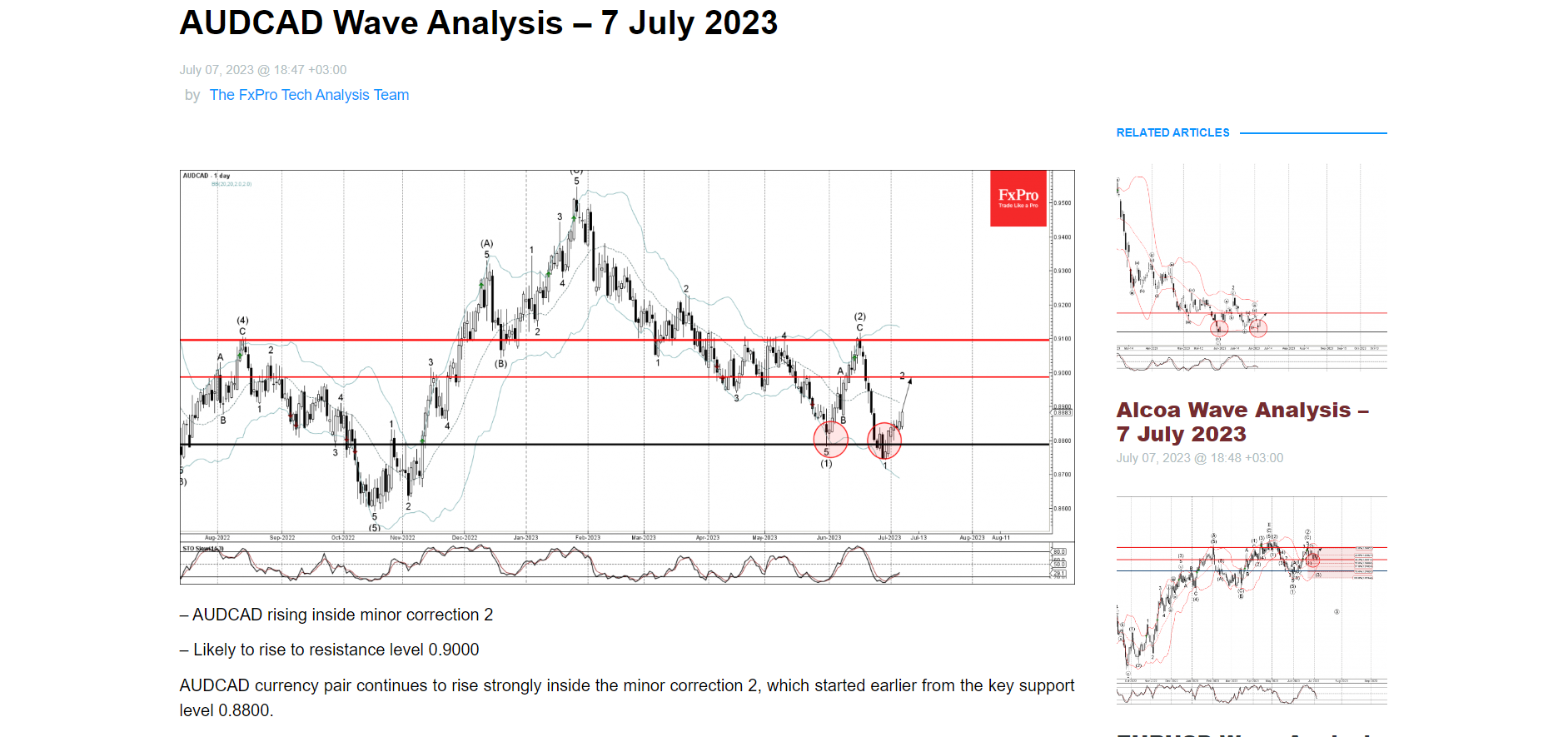 FxPro Research
FxPro has a separate domain for its news and market analysis offering: fxpro.news. Stories are broken down into 3 categories: Market Overview, Crypto, and Technical Analysis.
The Market Overview report covers fundamental themes such as major economic releases and major geopolitical news stories. The section is updated are made several times daily and helps traders understand the forces behind movements in the market.
Crypto updates primarily focus on Bitcoin and cover significant stories in the space. Updates are less frequent, at most once per day.
Technical analysis updates span forex, commodities, and equities, focusing on Elliott Wave analysis. Major support and resistance levels are included in the reports, published several times daily.
FxPro Squawk
A live squawk and newsfeed are also available within the client portal. The FxPro Squawk alerts traders to stories with potential market impact and breaking news. The scrolling news feed covers significant news stories, rumors, reports, and articles.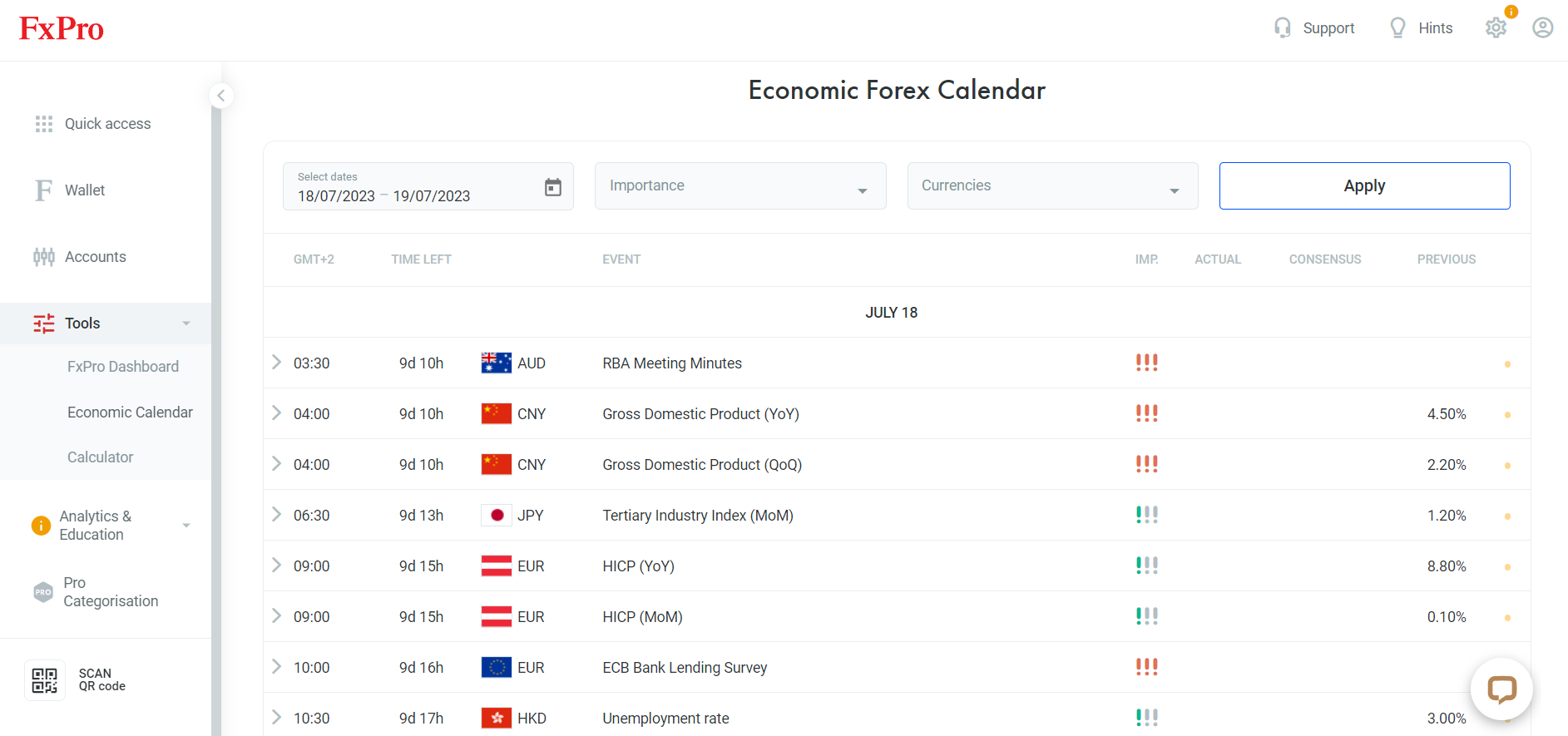 FxPro Economic Calendar
Standard tools such as an economic calendar and FX calculator are available from the website and within the client portal.
Trading Central
FxPro also offers award-winning content from third-party provider Trading Central, which combines automated investment analytics and analyst research.
Key features of Trading Central include:
Analyst views: this covers trading ideas, technical updates, support/resistance levels, and ideas across forex, stocks, commodities, and indices.
Featured ideas: this lists opportunities and provides direction for your trades.
Technical insights: after choosing your preferred technical indicators, candle patterns, or oscillators, Trading Central scans the markets to find opportunities that match your criteria.
FxPro has a robust education section with a variety of materials for both beginners and advanced traders. Interactive courses cover fundamental analysis, technical analysis, and trading psychology. There are also educational videos, platform tutorials, and recorded webinars on the FxPro YouTube channel.
FxPro Online Trading Courses
The courses are presented in a user-friendly format, with concise and easily comprehensible cards guiding you through each section. They cover important subjects like technical analysis, risk management, and creating a trading plan.
The course content is provided in both video and text formats, accompanied by module-ending tests to facilitate effective learning. The courses offer valuable insights suitable for both beginners and experienced traders.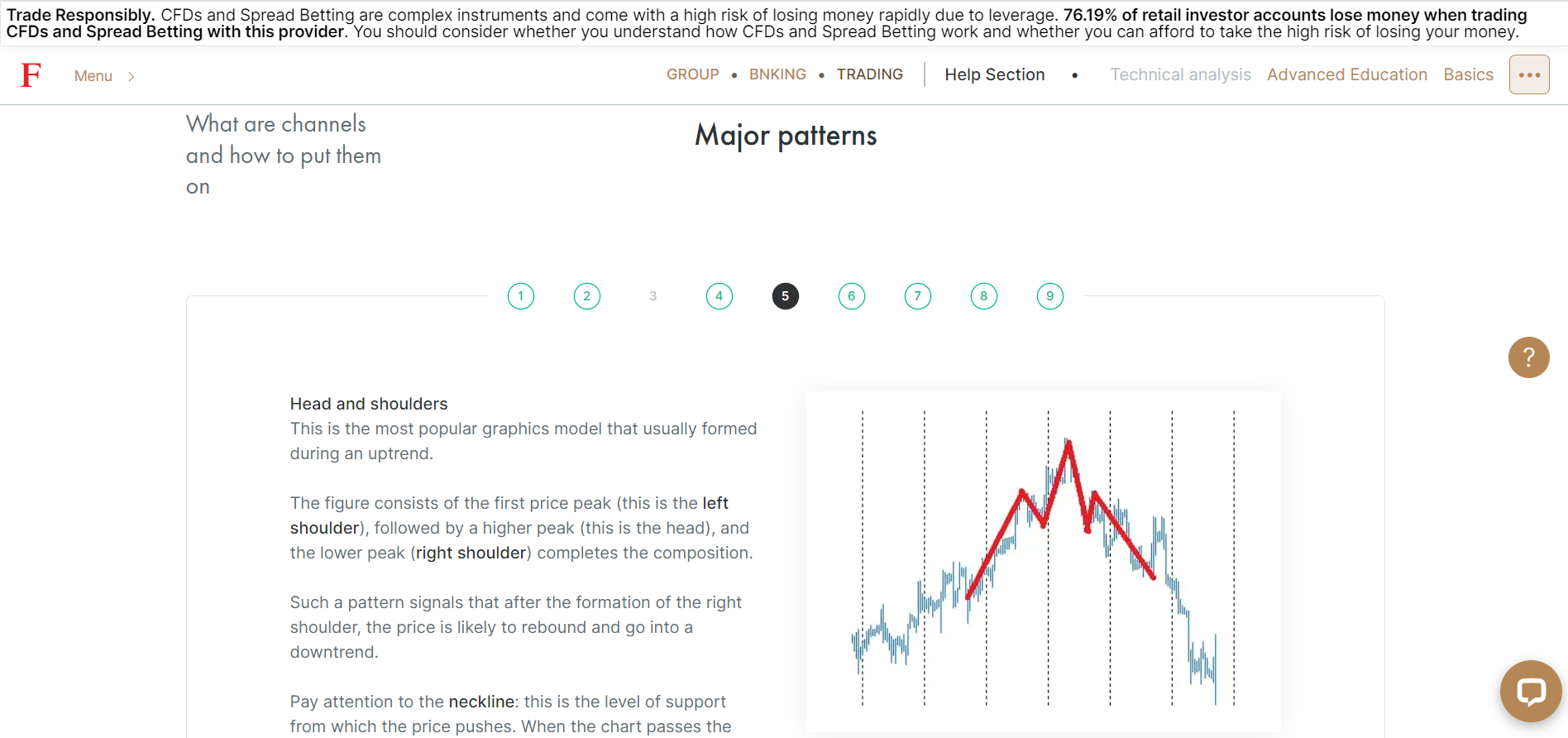 FxPro Education
The FxPro YouTube channel offers a wealth of comprehensive and advanced content, including platform tutorials and recorded webinars in various languages. One particular recording that caught my attention is a recorded seminar by industry expert Phillip Konchar, titled "Plan Your Trade and Trade Your Plan," which provides over an hour of insightful guidance.
The Bottom Line
FxPro is a strong broker with a well-rounded offering. Traders have the flexibility of operating via the intuitive FxPro Edge or the more advanced cTrader and MetaTrader platforms. I was especially impressed with the range of tradable instruments – every asset class has above-average depth. Research materials are another highlight, with an excellent range of analysis and tools available to clients.
Whether you are a beginner to the markets or an advanced trader, FxPro could be a good fit for you, thanks to its strong performance across all categories of our review. I found it hard to find fault with this broker, although the offering could be improved by adding private insurance for clients of the offshore entity.